New mojo!!
HELLO and Happy New Year's Eve!!
After taking a much-needed hiatus I am back and rarin' to go. OK, just one more day (tomorrow) and THEN I'm back, and I'll be kicking off the New Year with a super fun project that I made for my dear friend Heather Hudson who I met in Blogland about a year ago. I don't remember how, but I came across one of her exquisite vintage creations one day and tracked it back to her blog
My Artistic Adventures
and was instantly smitten with her delightful projects and humor. Her blog inspires so many "sigh" moments and it ALWAYS inspires me to get busy and create more vintage things than I usually do (and vintage is my favorite decorating theme!). And she's a computer whiz with all sorts of valuable tips on making your blog better and more functional. Her blog is a wealth of all sorts of information, even recipes and YouTube tutorials!
Heather also has an
Etsy shop
where she sells her darling vintage collage sheets. I have a growing collection myself and my goal for 2014 is to use them very regularly because vintage cards and paper crafts are what I'm happiest making.
Heather is a member of many design teams (the woman has unflagging energy) and she has decided to open up her own challenge blog using her designs on the 2nd and 16th of every month. The challenge blog will be called, My Artistic Adventure Challenges and I am excited that she asked me to be a guest designer for the very first challenge.
You will want to check out the RULES page here.
She is also offering a 15% off $5.00 or more sale....coupon code: MYARTISTICADVENTURES good till the 16th of Jan.
Please check back on on the 2nd to see what I created for this very first challenge, and don't forget to pop in to see her
Etsy shop
. You'll be very glad you did! And, if you like, you may post her challenge blog button to your blog too. Even THAT'S gorgeous!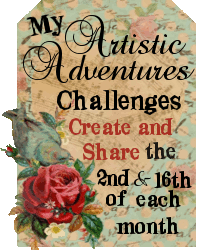 Happy crafting, and Happy New Year!