Hello!
Today features my next Valentine for a family member (this one is probably easy to figure out and I hope he's not peeking at my blog!), and once again, I'm using images from Heather Hudson's fantastic Valentine collection, which you can find in her Etsy shop.
This collage sheet is her Victorian frame and centerpiece, which you can find here. The images are so gorgeous and ornate that you really don't have to do much to embellish them, though of course I did. Of course. But you don't HAVE to.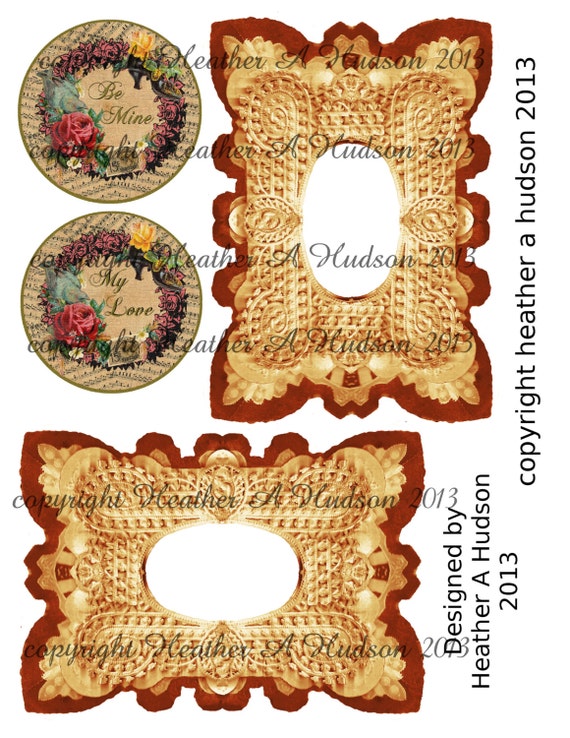 First up I embossed all four edges of the base with gold embossing powder for a little pizzazz, then I inked the edge of the circular image with black distress ink and popped it up on the frame layer. But first I smeared gold glitter glue all over that layer to deposit subtle sparkles all over the surface and then edged it with a line of more glitter glue.
A couple of gold grommets hold the black satin ribbon. See? No bows (not that guys don't get bows, this piece just didn't need them). Very subtle, yet still shimmery and sparkly.
I tried to take a picture at an angle where you can see the glitter on the surface of the frame image. If you click on the image you'll get a much larger one and then you can see it better. It really does sparkle beautifully in real life.
Thank you so much for joining me, and here's wishing you a lovely day full of sparkly goodness too! Don't forget to hop on over to Heather's blog to take part in her latest challenge, "Anything Goes!"
Happy crafting!
Challenges entered:
Sugar Creek Hollow #79 - Love and Adore
Fussy and Fancy #106 - Vintage
Eclectic Ellapu - Texture
613 Ave. Create #57 - Anything Goes (optional: use felt)
Pile It On #5 - Add Ribbon