Hello!
I'm telling you, it's not my fault that I'm still hung up on making Christmas pretties, it's all that Heather Hudson's fault, what with her gorgeous collage papers and all. I've been guest designing for her new challenge website (My Artistic Adventures Challenge which you can find here), and her papers are sooo pretty that I just had to make another project with them.
This is my Christmas angels wall hanging and I used her Peace On Earth Christmas Angels collage sheet. The soft pastels are so delicious I couldn't resist playing around with them.
Here's a picture of the collage sheet: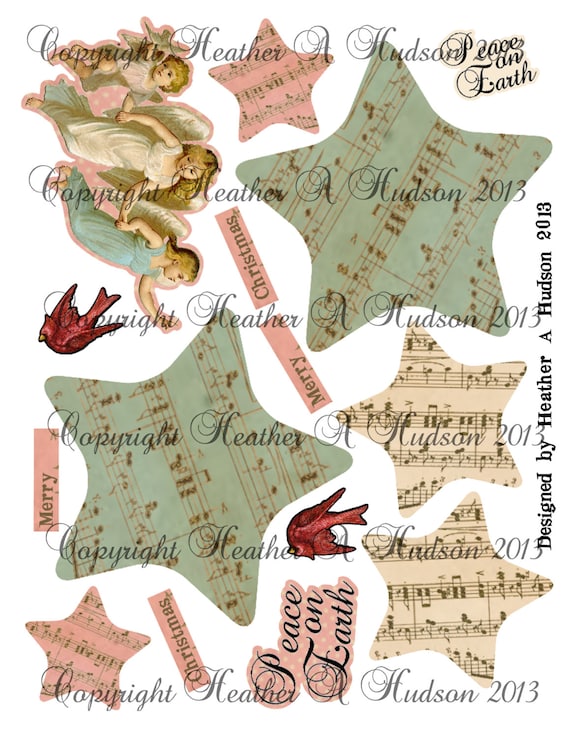 See what I mean? I used some of the smaller pieces on my ornaments in my last post (here), but I really wanted to use those stars and the angels as well.
All of the stars are double-sided, and the largest star has a thin piece of chipboard (from a cookie box) in the middle to give it more stability. I edged the star with pearls on a string then placed the angels on top with a bit of hand-dyed cheesecloth underneath.
I'm a big fan of rosettes and made a large one to support all the other pieces. This rosette is approximately 6" wide and has been dusted with champagne glitter and edged with gold glitter glue.
You can see a bit of the cheesecloth here. The bow, called a "Colleen Bow" (directions here from my lovely friend Colleen Dietrich), is topped with a scrap of faux vintage tinsel and then the "Peace on Earth" greeting. I've also used a couple of die cut flourishes cut from gold metallic card stock and which I first painted with clear crackle paint (Tim Holtz) then rubbed with a bit of Vintage Photo distress ink.
By the way, all stars are edged with a line of glitter, and the angels' clothing and wings have been "glitterized" a bit too.
This middle star has a small little jewel charm made for the occasion. The center flower is a flattened bead cap which started out silver but was turned to bronze courtesy of my trusty Copics. I've topped it with a small flat-back pearl.
The tiniest star also has a flattened, colored bead cap in the center. The charm was made with a tassel I rescued from a pair of earrings I used to wear in college. Some might call it vintage even though it feels like it was just yesterday that I was wearing them.
By the way, the hanger is made from a piece of costume jewelry. Not vintage, just something I don't wear anymore.
And that, lovely readers, is my project for today. Thanks for joining me and feel free to pop on over to Heather's challenge site to contribute your own Christmas creation.
Happy crafting!
Challenges:
Craft-Dee BowZ January challenge - Anything Goes + handmade bow
Oldie But A Goodie - Recycle
Divas By Design - Use Ribbons